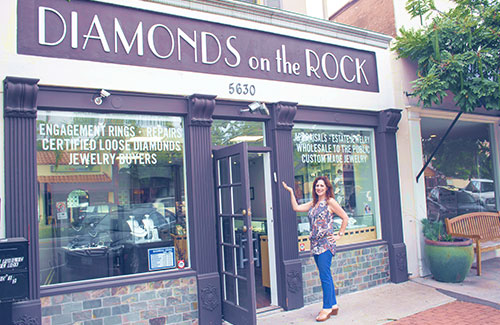 Family Jewelers since 1919
Debra Levine is your Diamond expert in La Jolla!
Debra's grandfather established their family's first Jewelry store 95 years ago in Endicott, New York. In 1986 Debra moved to California to attend the Gemological Institute of America where she obtained her Graduate Gemologist diploma. Upon graduation she was selected to work at the G.I.A. as a diamond grader in their lab. Debra's desire to work more closely with people led her to transfer to the education division where she continued her career as a Diamond Instructor. She is a real Diamond expert!
"I developed a passion for gemology watching my Father and Uncles' enthusiasm for gems"Debra Levine
In 1990 she moved to San Diego where she became a partner in a diamond wholesale Company. Missing the personal connection with her clients she opened a small jewelry store near UTC and then moved to Mission Valley in 1998. She chose to open a store in Birdrock because it has the intimate feeling of a small community, and is reminiscent of her hometown. Debra is joined by her son David at her new location in Birdrock. Stop by and say hello! For that personal touch in selecting the perfect engagement ring, designing custom jewelry, or repairing your jewelry, they will take care of you!